Various form elements from choices to inputs for all your requirements.
Ranging over 25 form elements, we have that particular element you need for your awesome form. From checkboxes to inputs to sliders or ranges, we have you covered.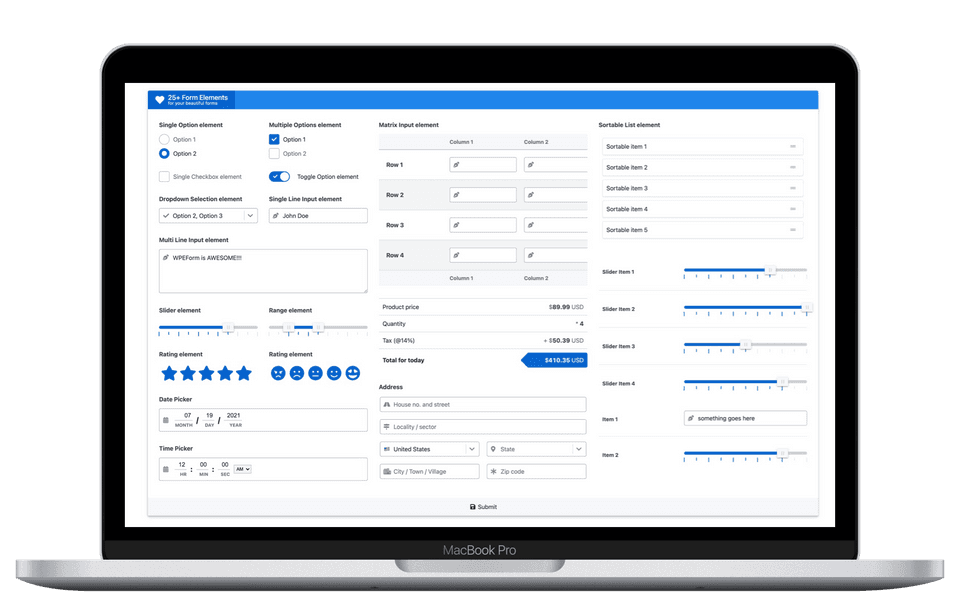 Choice and Ratings
Including Radio, Checkbox, Slider, Rating, Matrix and more.

Text Input
Multi line and single line text input with various filters and validations.

Design Element
Add images, rich text, rows, columns very easily with our range of design elements.

Security Elements
Strenghten your forms with our built-in captcha elements to fight spams.
25+ Form Elements
WPEForm comes with all the form elements you could think of and more. We are in active development of form elements, so you will almost never run out of options. And if you do, we humbly ask that you let us know and we will do our best to bring it to the next version.
The FREE version of WPEForm comes with basic sets of form elements, namely Radio, Checkbox, Dropdown, Text, TextArea, a few design elements like Heading, Question Group, Article and the Captcha security element. These should be enough for anyone just starting out with contact forms.
As your requirements grow, you can upgrade WPEForm to one of the paid plans and gain access to more form elements. Right now, we've released the STARTER plan which has the following extra elements (on top of everything available from the FREE version): Toggle, Math output, Slider, Range, Rating, Matrix Choice, Matrix Input, DateTime, Slider Group, Range Group, Rating Group, Math Group, Sortable, Stacked Group and Address.
Stay tuned as we release more form elements tailored to solve your problems.